Cosmetic Treatments
At Marsh Dental Care both Preetpal and Jayne have an active interest in cosmetic dentistry.
Using modern techniques, we can restore chipped, discoloured, spaced or uneven teeth to give a natural looking beautiful smile for life.
Dental veneers can be used to make a chipped tooth look intact again. The porcelain covers the whole of the front of the tooth with a thicker section replacing the broken part.
If the chip is substantial, a natural looking porcelain crown may need to be considered.
A natural-coloured filling material can be used for minor repairs to front teeth like chipped or broken tooth corners. It can also be used to close gaps between the front teeth.
Chipped and irregular teeth can spoil the smile line. Small corrections to the length and shape of each tooth can make a big difference.
Procedure Video Gallery
Chipped Tooth Options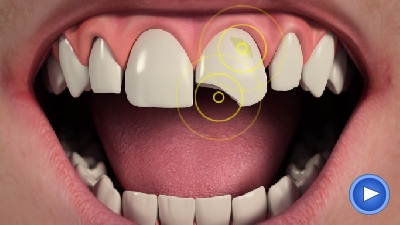 The chipped area could be repaired with bonding material. The tooth could be prepared and a Crown made. Or a veneer could be made.
Tips for a great smile
To receive our e-newsletter please enter your details below: